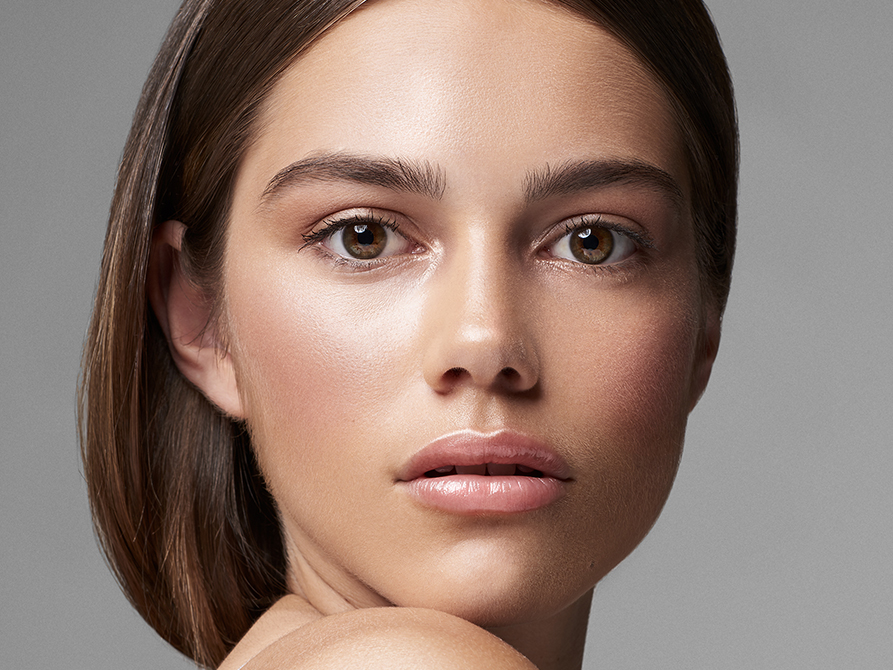 Let's play a game: What was the first beauty product you ever owned? While nail polish was a pretty early purchase for most of us, and we might have been eyeing up our mom's lipsticks before we could even spell, chances are for many of us it was lip gloss that was the first product in our makeup bags. No wonder when gloss is one of the cheapest, most versatile, and (crucial for our pre-teen fingers!) easy to apply products out there. It's also the one that our moms' often regarded as 'starter makeup', seeing as a tinted balm is more natural and less 'Hollywood glamour' than a vermillion lipstick or volumizing mascara.
The birth of the glossy makeup trend
Since the early 2000s, gloss is now considered one of those must-have beauty essentials that are not only for your mouth. We've all seen the glossy (no pun intended) magazine shoots where clear balm is used on eyelids and the tops of cheekbones, or witnessed celebrities rocking dewy, brightly-colored lids that shine under the lights of the cameras. This year, however, its desirability factor has gone up a notch with ultra-dewy, glossy skin becoming the trend everyone is talking about – and trying out, in real life. With an illuminating sheen on lids, brow bones, lips and cheeks, the glossy posse is providing an antidote to all the matte finishes of the last few years.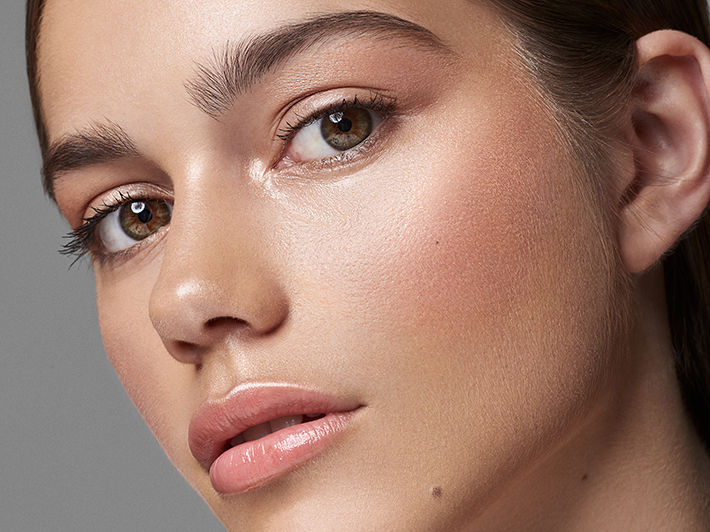 Glossy vs matte finish
"We haven't seen this much gloss since those JLo videos from the early 2000s," laughs international makeup artist Christabel Draffin, whose work has appeared on the pages of ELLE, L'Officiel and British Vogue. "I've had so many requests recently on editorial shoots for glossy skin. The reason it looks so good is that youthful skin naturally has a glow that radiates, and a glossy finish mimics this," she explains.
Matte or velvet finishes are undoubtedly excellent at perfecting a flawless 'perfect canvas' affect. Yet they can sometimes look unnatural and can also be quite aging. This is because the matte finishes absorb light rather than reflecting it. By contrast, the illuminating impact of gloss, which has a fresher look than applying glitter or products containing iridescent particles, works like a highlighter. Actually, it is even better than a traditional highlighter, since gloss is the ultimate reflective surface.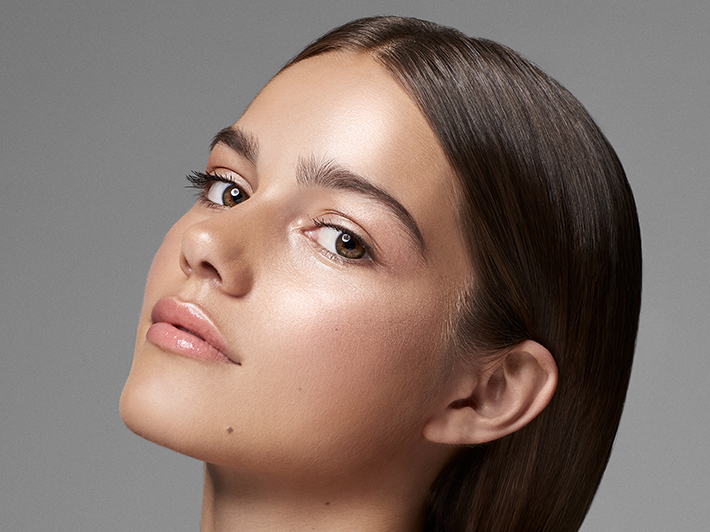 Natural beauty
"The dewy, glossy skin trend allows you to go without so many other beauty steps because it makes your look so fresh and radiant from the outset," says Elle McNamara, Instagram beauty blogger @bambidoesbeauty who is known for her dewy skin. "There's no need for heavy eye makeup with this look, or anything else time-consuming," she adds. Hyper-sheeny skin IRL means starting with good basics and taking care of your complexion, rather than piling on the makeup. "Start with good skin care," advises McNamara. "Highlighters are amazing, but I always begin with a great exfoliant followed by face oil," she explains. Draffin agrees: "You don't want to go as 'gym-sheen' full on as on the runways, that's not a great look for the office! So keep it subtle." Work with your natural skin texture too. If you have oily skin, then finish the look with a dusting of translucent powder on your t-zone. If your skin is dry, up the sheen on your cheeks by using a richer moisturizer than you would normally choose.
Sheer skin
Don't forget to let your skin shine through the makeup. You want to look fresh and dewy, so take a less is more approach when it comes to application. "It's about transparent and sheer foundation coverage with lots of delicious skincare underneath," says Draffin. "This will hydrate and plump the skin – then add just a touch of gloss on lips, eyes or cheekbones," she advises.
Luckily, with innovations in formulas, you can rock glossy skin without any of the prehistoric side effects – such as your hair getting stuck to your face or that 'sticky' skin feeling. Here's how to get the look: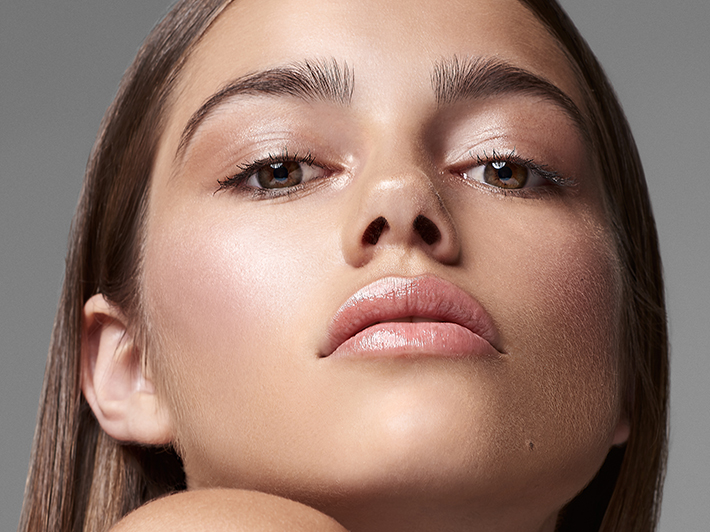 GLOSSY POSSE: STEP-BY-STEP
1
Prepare the skin using a hydrating, multitasking product such as SHISEIDO Ultimune Power Infusing Concentrate. Daily use will help make your skin look brighter, softer and more radiant. Layer under your usual serum or moisturizer for smoother, suppler skin.
2
Apply a glowing foundation. SHISEIDO Synchro Skin Glow Luminizing Fluid Foundation is buildable with a luminous finish, which synchronizes with your skin's natural color and moisture levels for a perfected complexion. The lightweight, serum-like texture gives a fresh-faced affect, whilst reducing the appearance of fine lines and visible pores.
3
Apply highlighter to your cheekbones, brow bones and Cupid's bow – the areas of your face where the light naturally hits. Then carefully dot a small amount of SHISEIDO Future Solution LX Replenishing Treatment Oil over the top using your fingertips. Next, apply two drops of the treatment oil to the palms of your hands, rub together and then gently pat onto your complexion, for an all-over, glossy skin effect.
4
Keep your eye makeup simple. Just a smudge of brown eye shadow plus a few flicks of SHISEIDO Full Lash Multi-Dimension Mascara will define your eyes beautifully.
5
For lips that look glossy and gorgeous, try SHISEIDO VisionAiry Gel Lipstick, a weightless, vibrant lipstick that's moisture rich. On our model we used Bullet Train (look 1) with a dab of clear gloss on top. For a more daring look, try VisionAiry in J-Pop (look 2) for a vivid flash of bold, dramatic color.