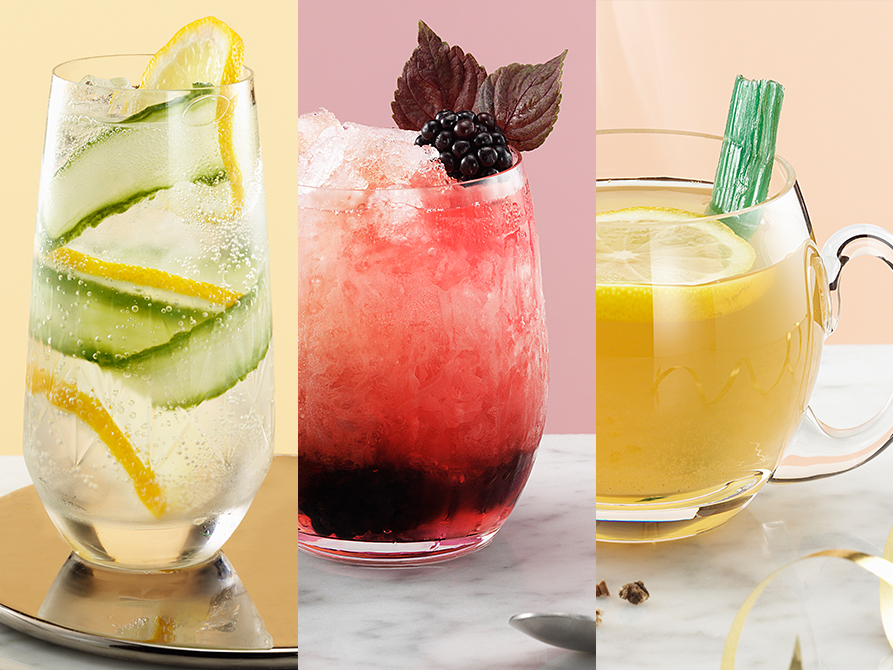 Thirsty skin drinks up the botanicals in SHISEIDO's naturally powerful skincare, and this holiday season, so can you. Our mixologist has created three exclusive cocktail recipes to showcase star ingredients that not only nourish and enhance your skin, but taste absolutely delicious, too. Cheers to that!
Green Yuzu
The Yuzu might have its own chronic case of knobbly skin, but it can actually help to smooth and soften yours. This little citrus fruit packs a powerful punch. Since the 18th century, it's been used in traditional Japanese bathing rituals to mark the winter solstice, and is believed to aid relaxation and even fight off dreaded sniffles and sneezes. SHISEIDO uses potent Yuzu Seed extract in the SHISEIDO WASO Beauty Sleeping Mask for an overnight burst of hydration. It encourages parched, fatigued-looking skin to produce more hyaluronic acid, so you wake up glowing skin that appears radiant and refreshed. Yes, even if you drink one too many glasses of our festive fizz with a Yuzu twist.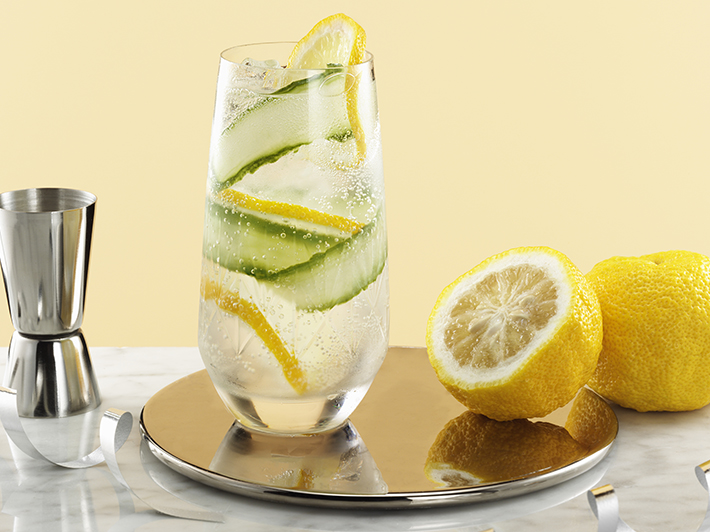 Yuzu Fizz
Makes 1 cocktail
Ready in 5 minutes
ice
½ Yuzu, sliced into rounds
3 strips of cucumber
20ml pure yuzu juice
15ml elderflower cordial
50ml vodka
125ml soda water
1

Fill a tall glass with the ice, Yuzu slices (reserve 1 slice for garnish) and cucumber strips. Pour the Yuzu juice, elderflower cordial and vodka into the glass and stir to combine.

2

Top up with soda water and garnish with the remaining yuzu slice.
TIP To make this without alcohol, leave out the vodka and swap the soda for a flavored tonic, such as cucumber or elderflower.
Red Shiso
A beloved ingredient in Japan, Red Shiso is used to color umeboshi (pickled plum), and makes a sweet-but-refreshing juice that's popular during the summer months. When it's not helping out in the kitchen, this herb is leading a double life as a skin savior. A busy holiday season can take its toll on your glow, so if you need an instant dull-busting pick-me-up, reach for SHISEIDO WASO Purifying Peel Off Mask. Red Shiso acts as an antioxidant to help brighten skin - peel off after 20 stress-free minutes, then whip up a Red Shiso Blackberry Bramble, our Japanese take on the classic gin cocktail. Social butterfly status: fully restored.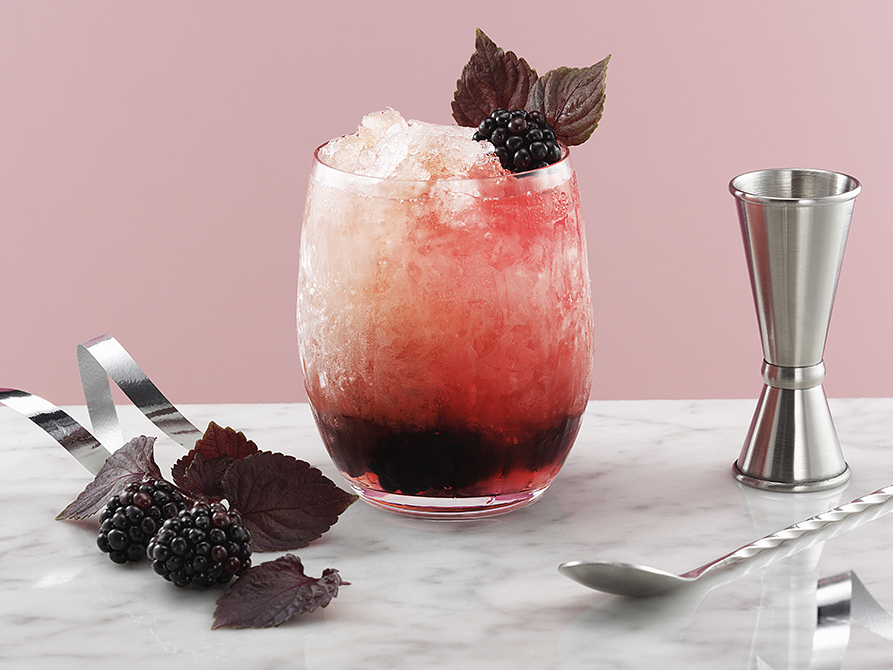 Red Shiso Blackberry Bramble
Makes 1 cocktail
Ready in 5 minutes
a small handful of Red Shiso leaves (about 5)
4 blackberries
50ml gin
25ml lemon juice
25ml sugar syrup
crushed ice
15ml crème de mûre
1

Muddle together 4 Red Shiso leaves and 3 blackberries in a rocks glass.

2

Add the gin, lemon juice and sugar syrup, and stir to combine. Fill the glass with crushed ice.

3

Drizzle over the crème de mûre and let it trickle into the drink. Garnish with the remaining Shiso leaf and blackberry.
TIP To make this without alcohol, swap the gin for sparkling water and the crème de mûre for blackberry syrup.
Angelica Root
Legend has it that Angelica Root helped beat the plague, warded off witches, and was even an antidote to poison. Nowadays, we know it better as a candied cake decoration and an important botanical in spirits and liqueurs, including gin and vermouth. But it's also known as a formidable skin regenerator. SHISEIDO Future Solution LX Concentrated Balancing Softener harnesses its magic by using it to promote the skin's natural vitality. Illuminating and smoothing, it leaves your complexion with that coveted lit-from-within glow, as if you're carrying around your own personal candle. Our advice? Put down the candle and pick up this warming Angelica tea instead.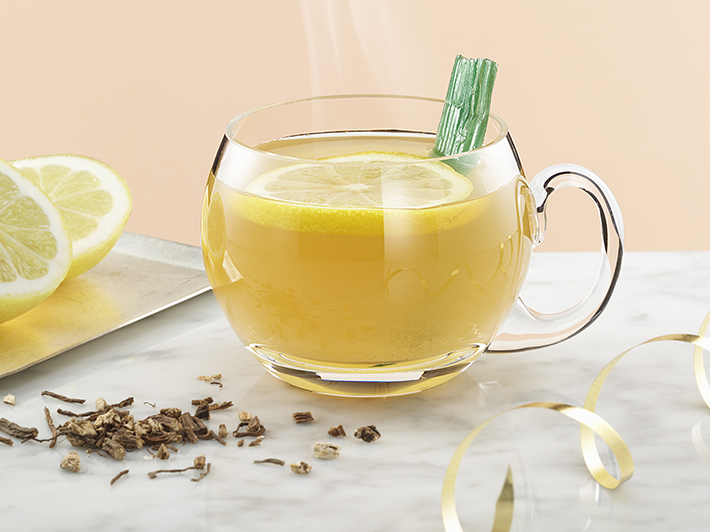 Angelica Tea // No alcohol
Makes 1 non-alcoholic cocktail
Ready in 10 minutes
1 tbsp dried Angelica Root
1½ inch of ginger, peeled and grated
350ml water
juice of ½ lemon
1½ tbsp agave syrup, or to taste
lemon slice, to garnish
candied Angelica, to garnish
1

Place the Angelica Root and ginger into a small saucepan with the water on a medium heat. Bring to a boil, then reduce the heat and simmer for five minutes.

2

Remove from the heat and strain the tea through a small sieve into a mug. Add the lemon juice and agave syrup. Stir to combine.

3

Garnish with a lemon slice and candied Angelica. Enjoy warm.